Staff
Pastor - John Prose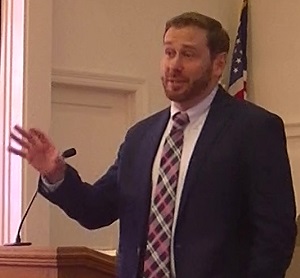 John began his ministry at Mooringsport in January 2022. We are looking forward to what God has planned for us.
John comes to us from Rainsville, Alabama where he severed as a student and missions pastor and also as a BCM college campus pastor. He calls Florida his home state and is the son of a pastor. He is currently working on his Master of Divinity degree from Southern Baptist Theological Seminary.
In a statement of his objectives, John writes, "I believe that it is God's plan that every Christian continually grows, therefore I should continually be growing as well as challenging others to grow in their Christian life by training, supporting, and presenting God's word to them in a manner that encourages them to continue going strong."
We are pleased to welcome John and Kelsey Prose and their children, Nora, Evelyn, Charlotte, and Thomas!
Worship Music Pastor - Max D. Hutto
Music Minister
Max began his ministry here in April 2014. He is a native of Monroe, Louisiana. He has been in ministry for over 45 years. Max has earned degrees from Louisiana College, BA, and New Orleans Baptist Theological Seminary, Masters of Religious Education, MRE, and a Masters of Divinity with Specialization in Worship Ministries, MDiv. He has served in the areas of music/worship, education, and youth ministry. Max writes a weekly devotional column, The Upward Look, which can be found at www.upwardlook.org. He enjoys walking, reading, playing golf, and training his German Shepherd Dogs in obedience. He is also a church web site designer.


Max is married to Patty. Patty serves as the pianist and a Sunday School teacher at Mooringsport and is a retired elementary school teacher.

Patty and Max both love the Lord Jesus and love singing praises to Him.