Location & Contact
Physical Address: 500 Ivy Street,
Mooringsport, LA 71060
Mailing Address: P.O. Box 397
Mooringsport, LA 71060
Phone: 318 996-7521
Website email: website@ (add mooringsportbaptistchurch.org after the @)

We are located 1.6 miles off of LA-1.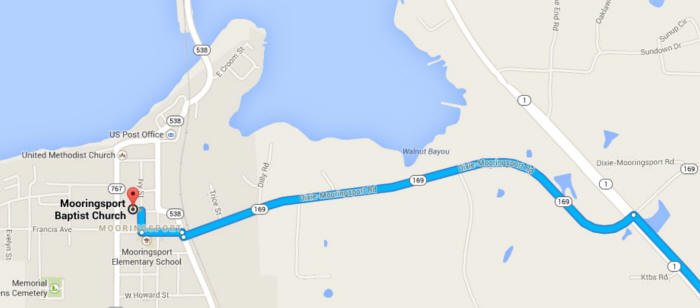 Directions from Shreveport

At I-220 Take North Market Street (LA-1)
Drive north on LA-1 for 13.2 miles
Turn left onto LA-169, Dixie-Mooringsport Rd (caution light on LA-1)
Drive west on LA-169 for 1.6 miles
Zig-zag to the right then left at LA-538 staying on LA169
Drive 2 blocks past LA-538 on LA-169
Turn right onto Ivy Street.
Church is on the left.
View on Google Map